For many organizations, the capital planning process involves a lot of emails, spreadsheets and time, as well as a large number of staffers. That's a lot of work for the plan to potentially need major adjustments by the second quarter of the year.
While this is a known issue, organizations have simply come to accept it — the capital planning process has been completed this way for years, and without a more effective option available it continues to be standard practice. But for capital budget managers, this process can lead to a lot of seemingly thankless work and potentially sleepless nights as they work to build a capital plan that balances their organization's needs with the appropriate amount of budget to spend — sometimes without any concrete information and analysis to support the decisions.
Fortunately, streamlining the capital planning process for more accurate and effective budgets is possible.
Quantifying the Issue
Over the past several years, we have seen that many of our clients' capital planning processes tend not to work as effectively as the organizations would like. This realization, combined with our years of experience and independent research, further showed that in many cases 5-25% of an organization's capital investment budget was allocated to projects that were not directly aligned to the organization's needs and business interests.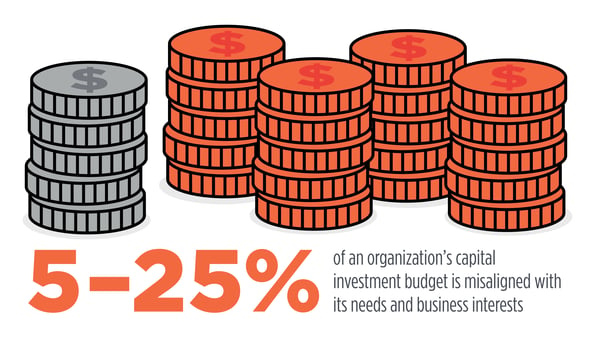 While each organization's capital investment budget will vary, this means that even at a relatively small yearly capital investment of $25 million per year, an organization most likely has, on average, over $3.75 million of misaligned capital investment every year. For larger organizations that are spending $250 million per year on capital investments, the amount of misaligned capital per year balloons to $37.5 million — representing significant potential for capital savings or realignment opportunity.
Providing the Solution
AssetLens is a purpose-built, data-driven solution that allows an organization to recapture the value of millions of dollars of misaligned capital investments every year. Whether your organization is large or small, the AssetLens solution provides your capital prioritization and planning team with a tool to more effectively plan and allocate capital budgets.
AssetLens is built on more than 120 years of engineering, design and construction experience that enriches the data from existing systems and subject matter experts through proprietary algorithms that are tailored to each organization. In this way, the solution drives effective capital investment strategies that are based on asset health and criticality indicators specific to an organization.
Looking Ahead
There will always be ups and downs, even in a normal business year. AssetLens helps an organization optimize its capital investment plans during the traditional yearly capital planning process, as well as multiple times per year, to see that the proper amount of money is being spent in the correct areas of the organization.
This feature of the tool becomes all the more impactful when an organization is faced with a highly volatile business environment, such as we are seeing following the outbreak of COVID-19. In looking toward an unsteady future, AssetLens provides even more value by giving organizations the means and guidance to effectively tighten budgets to continue to meet needs and address business risks.
Being able to pivot in this way will continue to be critical to success as we move into the future. With AssetLens, organizations will have the support necessary to plan impactful budgets that continue to deliver.
With a turnkey, cloud-based platform, stakeholders have the tools to make effective choices for capital budgets with no added overhead.